Tree Pruning and Removal
by trained arborists with a Certified Arborist on Staff
Spring River Tree Service, Inc provides tree pruning, removal, and many other services in the Sunriver, La Pine and Bend, OR areas. We are members of the TCIA and the Pacific Northwest chapter of the ISA. Our president, Brent Redenius, is an ISA-certified Arborist (PN-8576A).
We serve residential as well as commercial clients. No job—or tree—is too big or too small. Our services are wide-ranging. They include:
We perform the entire range of services that our clients may need. From felling a tree to cleaning up after the job is done, we'll do it all!  Because each tree is unique, we don't have standard rates. However, we do offer free estimates based on factors such as what the client wants and where the work will take place. By taking into account what is best for the trees and their immediate environment, we can perform our duties safely and to our clients' satisfaction.
Tree stumps can be dealt with in many ways. The most common method is via grinding and that is what we provide. Not to be confused with stump removal, grinding leaves the roots in the ground. We grind the stump down from just below the existing surface to a maximum depth of 10 inches underground. A homeowner can also opt to have us cut the tree higher than normal. This results in a stump that is taller, which can be used to decorate the yard.
Often, it is necessary for us to locate underground utilities before we grind stumps. Please note that irrigation lines, such as sprinkler systems, cannot be located unless you provide us with accurate as-built information. While we always do our best not to damage irrigation lines, it is sometimes unavoidable when we use a stump grinder. We have seen irrigation lines buried anywhere from 1 inch to 12 inches below the surface. Sometimes, they are even buried directly below the stump.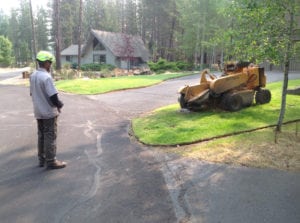 For most jobs, we grind the stumps in place. This is the most affordable and cost-effective option. Even with a low or flush-cut stump, the grinding process produces a mound of chips at each location since the wood expands after being ground up.
In most cases, a landscaper will remove the chips and replace them with soil, seed, or sod after we have done the grinding. It is generally more affordable to hire a landscape contractor, rather than a tree service contractor, to remove the chips produced by stump grinding or spread them out if the location is in a natural forest setting.
Stump grinding is the lowest impact form of stump removal that we offer. After grinding the stump down 6-10 inches below the surface, you can: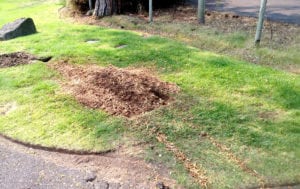 Use seeds and dirt to cover it up
Lay down sod
Place wood chips over the stump, leaving no trace of the stump and removing the need to mow around it
We do not have a standard price per stump. Our team looks at each job before doing any grinding, and you get a free estimate based on your needs and your unique job site.
You may be planning on building a structure, pave a driveway, or place a new hard surface over the existing stump locations. If that is the case, we recommend having an excavation company pull the entire stump and root system out of the ground rather than just grinding it down. This is done so that your future structure or surfacing is not built over an old root system that will eventually decay, shrink, and settle. When this happens, it can cause a dip or crack in the structure's foundation.
Chipping is safer than burning, and it is more cost-effective than hauling because it lets us use more of the tree's resources. Any wood chips that result from our services can be spread around the property, dumped in a pile at your chosen location of your choosing, or taken off-site.
Wood chips can be used as:
Landscape bark
Dust control ground cover
Erosion control
Mulch for trees and shrubs
A way to reduce soil compaction on construction sites
If you are thinking about performing tree work yourself and having us come and chip the limbs, we advise that you get in touch with us before stacking the limbs for chipping. We can help guide you to stack them properly, which will make chipping them easier for us and more cost-effective for you.
Firefighters use the term "ladder fuels" when referring to flammable materials that are on the ground and near trees. Flames can use these as pathways to reach a tree's crown. Some examples of ladder fuels are:
Bitterbrush
Branches and Limbs That Touch the Ground
Dead Lower Limbs
Dead-Down Wood
In Central Oregon, ladder fuels are common due to the large number of neglected rural properties. We saw this as a problem and took steps to address it. Through the years, we have developed techniques and equipment that efficiently remove these fire hazards. Our screening options allow you to choose what you want to see from the various areas on and around your property.
Help protect your property from fire by getting rid of ladder fuels. Removing these materials also makes your outdoor space tidier, increasing curb appeal and adding value. In addition, reducing ladder fuels is a great way to clean up a subdivision before initial lot sales.
When discussing hazard trees, we use a rating of 1-10 based on their failure potential. This value is also assigned to any object that may be hit by the tree when it falls. Based on these ratings, we can decide whether it is necessary to prune the tree or remove it completely.
Once we have determined that removal is the right choice, our skilled staff members use cutting-edge equipment to perform the task safely. We employ skilled and industry trained climbers who are capable of taking the tree down piece by piece. When necessary we use a crane.
Look out for the following symptoms. If you see any of them on a tree on your property, call us.
Excessive leaning
Ground disturbance or upheaval of the root system near the trunk of the tree
Large gall rust
Multiple Tops or forks (codominant stems) often develop included bark seams that can be an indicator that the tree may eventually fail at these fork unions.
Signs that a tree is dead or dying
We adhere to A300 standards that recognize four basic pruning methods. These selective pruning techniques are as follows:
Cleaning: We remove dead, diseased, and/or broken branches.
Thinning: We reduce the density of live branches.
Raising: We provide vertical clearance.
Reducing: We decrease the crown's height and/or spread. The ability of a particular species to tolerate this type of pruning is taken into consideration.
Please note that certain pruning practices are unacceptable because they can inflict injuries on trees. These are:
Topping: Reducing a tree's size by shortening limbs or branches down to a preset crown limit.
Lion's Tailing: Getting rid of excess inner and lateral branches attached to parent branches.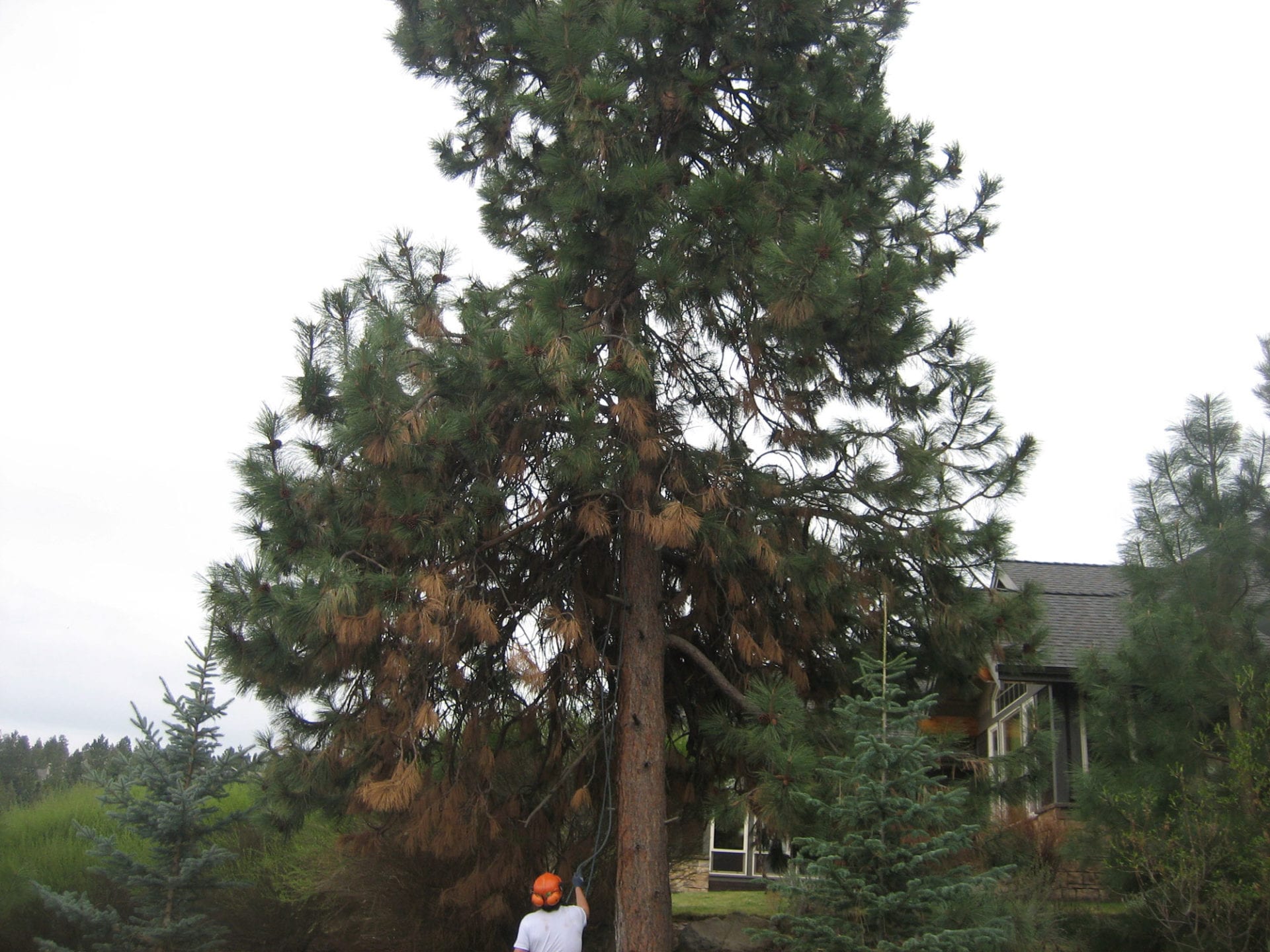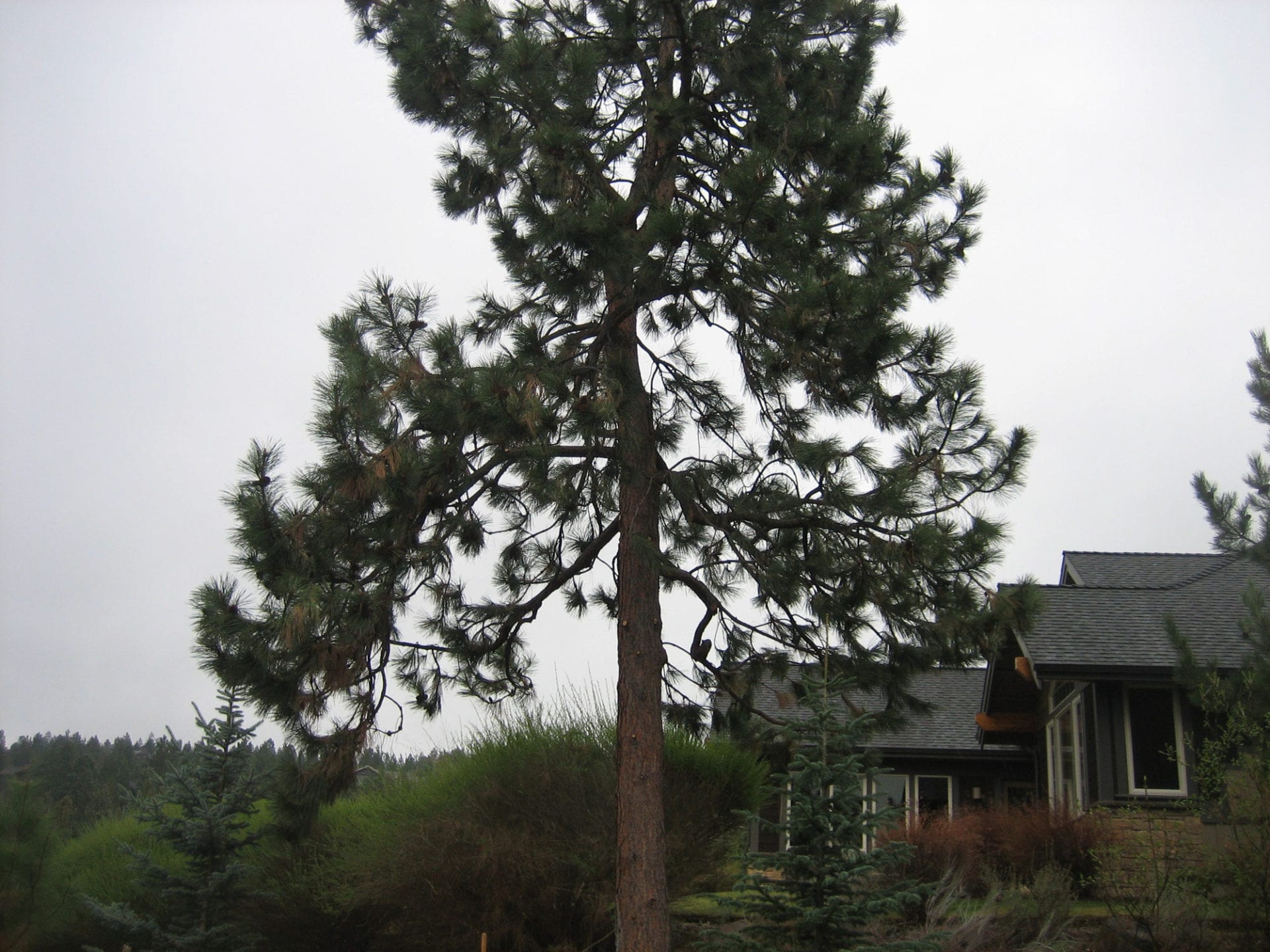 Crane Method
Tree Removal
Home and business owners in Central Oregon know that Spring River Tree Service, Inc is the best choice for tree pruning and removal services. To get a free estimate, reach out to us today!